reusable. redesigned.
reusable - simply a product that can last the wear and tear with everyday use. whether you're carrying your dous tote to the gym, the grocery store, or as your every bag, the tote will stand the test of time.

redesigned - forget the boring logo studded totes with only one compartment.we strive to bring a more functional tote with interesting prints and designs. our totes are designed with an inner pocket protected by a zipper. No more searching the depths of your bag for your keys or wallet!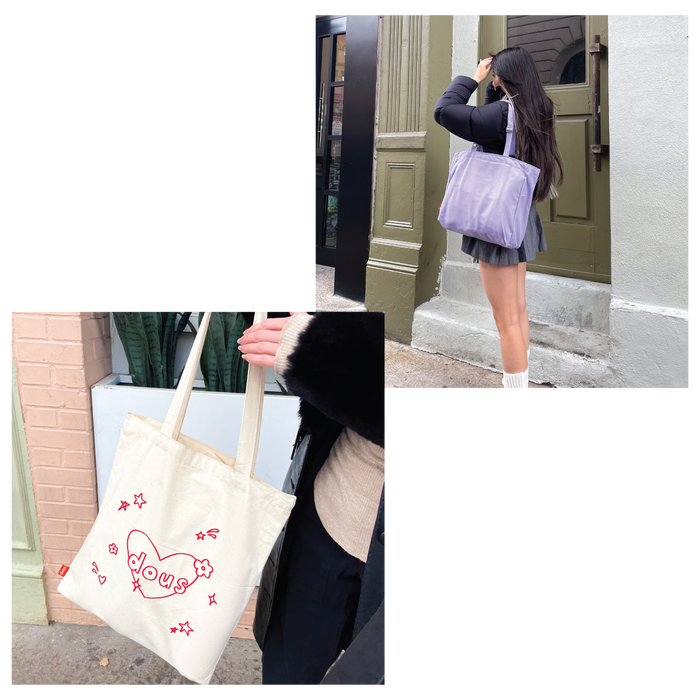 ★ ★ ★ ★ ★
flower power tote
have been look for the perfect tote bag that's durable, has a pocket so my phone doesn't get damaged, has good lengthen straps, and adorable altogether! was following their accounts for awhile and decided to pull the trigger and treat myself! let me just say… BEST DECISION EVER! i use it so often! 100/10 if you were looking for a sign to get it, this is your sign! buy it!
- ella
★ ★ ★ ★ ★
chocolate milk tote
probably my favorite tote bag! it's the only one i have with an inner pocket and it's soooooo helpful for my small things! the days of digging around my tote are over! and it's just super cute and goes with everything! ty so much!! <3
- Bells
★ ★ ★ ★ ★
chocolate milk tote
Obsessed w this tote. It's so trendy n the pocket is amazing for money & valuables. The quality is also really nice. Thank you!!! <3
- Jenna
★ ★ ★ ★ ★
cherry jam tote
it's so cute and holds everything in the small pocket and the material is so thick! it's not flimsy at all!
- Joie
★ ★ ★ ★ ★
chocolate milk tote
It's perfect! I've been wearing it everywhere and have gotten tons of compliments! Cant wait for the next release and will definitely be ordering another :D
- Tina
★ ★ ★ ★ ★
plain tote
BEST TOTE OUT THERE !! material is a 10/10 and the pocket is a 100000/10 !! the size is perfect for anything. can't wait to buy more
- Saul